Earn Unlimited Revenue with OnlineNIC Domain
Monetizing Service!
Earn Unlimited Revenue with OnlineNIC Domain Monetizing Service!
Domain names are the real estate of the Internet, and you can really imagine the possibilities of earning a significant income on your domains.

OnlineNIC offers a BEST opportunity to monetize your unused domains. You will surely benefit from OnlineNIC Domain Monetizing Service and soon be able to monetize domains and make money from your existing domains.

Login your reseller panel to start monetizing your domains!
How OnlineNIC Domain Monetizing Service works?
1. You simply add your unused domains into our parking platform and start monetizing immediately.

2. This service will direct your traffic to our parked page running PPC ads, CPM banners, text links, etc.

3. The more traffic you have, the more ad exposure you receive, which means the more money you make.

4. You will get paid monthly 80% of total revenue generated from your parked domains.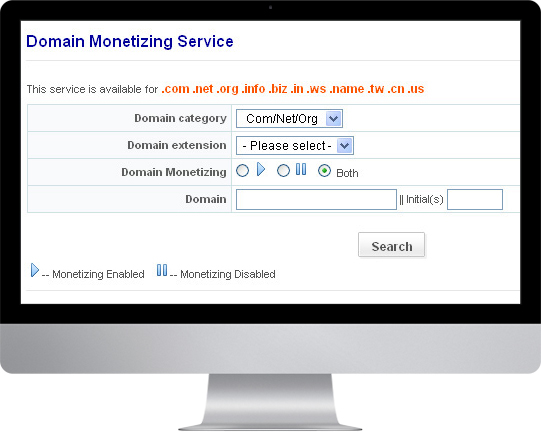 Service features and benefits
Save the time spent maintaining your unused domains

Easy to make money online from your parked domains

Attract more traffic through our innovative technologies

Maximize your domain revenue and profitability



OnlineNIC's mission is to help you grow business, no matter you are small or big.
Join our free reseller program with more than 10,000 resellers worldwide
Join Our Newsletter & Marketing Communication
We'll send you news and offers.